AJ Comerford
President & Co-Founder
AJ is President & Co-Founder of Boston Outdoor Living Inc. AJ's focus is working on overall business development and working directly with clients to help plan their own custom space. Outdoor living spaces have long been a passion for AJ and he knew early on that he wanted to be a part of designing and installing some of New England's most relaxing & luxurious backyard retreats. AJ graduated from Bentley University just outside of Boston, Massachusetts with a BS in Finance and is a Licensed Construction Supervisor in Massachusetts and an ICPI & NCMA certified installer. AJ has been working in the construction industry since 2005. When not working AJ enjoys being outside doing just about anything and spending time with friends and family.

Brandon Forcier
President & Co-Founder
Brandon is President and Co-Founder of Boston Outdoor Living Inc. Brandon's focus is on the production side of things and takes great pride in making sure that every Outdoor Living Space we install is installed on time and on budget. He is a stickler for doing things correctly to ensure that all our projects will stand the test of time. Brandon is a great source for our clients during their installation with any questions that they have pertaining to the day to day production on their property. Brandon is ICPI and NCMA certified. In his spare time, he enjoys being outside and staying active, especially if he can be on a golf course somewhere.
OUR MISSION is to provide the best Outdoor Living spaces within our service area by completing projects to the highest standards and providing every client with an unmatched experience from the very first interaction to years after installation.
Our History
Boston Outdoor Living started as a landscape construction division within a full service landscape company. After seeing the success that the division was having year after year the decision was made to branch the division off into its own company and Boston Outdoor Living was born. Branching off into its own entity allowed Boston Outdoor Living to focus all of our time and energy into providing our clients with premium outdoor living design and installation services throughout New England. Over the years it has grown from a primarily masonry based company to include an in house carpentry division and complete project management of many home construction projects.
Constructing residential spaces is all that we do so we are not distracted by anything else. All the decisions we make are made in order to improve our ability to install usable spaces and provide an exceptional experience for our clients throughout their project.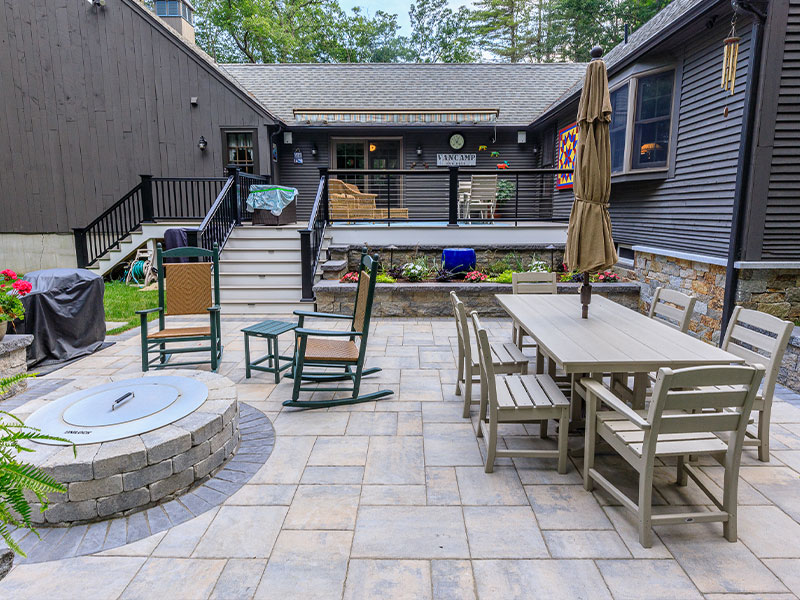 Contact
Call Us at:
(978) 798 – 0949
Our Hours
Mon – Fri: 8am – 4pm
Sat: 8am – 12pm
Our Location
220 Sturbridge Road
Charlton, MA 01507
Massachusetts General Contractor License CS-112600, Massachusetts Home Improvement Contractor License 193090