Our Outdoor Construction Process
Nothing great ever happens by accident. Project planning consists of much more than just developing and finalizing a design for your project. In addition to fine tuning your design through the design process we will also do the following:
Before We Break Ground, You Will Know:
• Who the team that is going to install your project is
• The specific scope of the work. What is included and what is not
• The contract terms
• When the deposit and following payments during installation will be do
• What to do if you want to change something mid project
• When we will be able to start your project and how long it will take
• The final material and layout selected for your projects design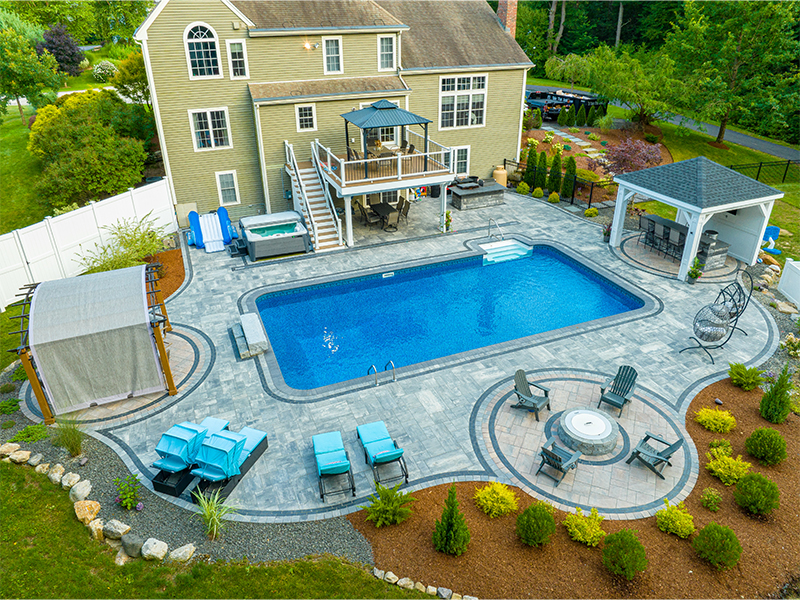 First Contact
When you first contact us we will review your initial construction plans and ask you a few questions to make sure that we are best suited to help you with what you are looking for. If we feel we are a good fit for you and your project we will set up a time with you to review the project in more detail on site.

Initial Meeting
At the initial meeting we always start by just listening. Once you share your ideas for the project – what your goals and budget are, and any other thoughts you have – we will start to review some initial concepts on how to achieve your goal. After our discussion we will collect field measurements and pictures of the site to aid us as we move to the next step and put together your initial design.

Initial Design Presentation
Once the initial design is completed we will set up a time to either meet again at your property or at our offices to review your design with you. As we go over the design we will again listen and make note of things that you may want to tweak now that you can see the ideas we have been discussing on paper. As always we will keep your goals for this project and your budget as the guidelines for helping you make these decisions.

Design Revision Presentation
If there are any revisions that you want to make then we will make those for you and then repeat the last step until we have a design that you are completely comfortable with.

Project
Once you have given the design your stamp of approval we will work on finalizing the project schedule. Once your project starts our teams will be there continuously until the project is completed. We do not assign teams to multiple projects at once – throughout the project our team including the team leader, group leader, and our production and management team leadership will stay in communication with you to keep you in the loop of what is happening with your project.

Post Project Site Walkthrough
Once the project is completed we will set up a meeting to go over the project with you to make sure the completed project meets your high standards and address any questions that you may have now that you can see the completed project in person. We will also provide you with any instructions that may be pertinent depending on your project if you are not having us handle the maintenance requirements of your project.
Are you as excited as we are to get started planning your project? The next step is to set up an appointment to discuss your project in more detail.
We are so confident in our team's abilities to install every outdoor fire feature to stand the test of time that we are able to offer one of the best warranties in the industry. A proper warranty on your Outdoor Living Space from a company financially stable enough to back it is one of the biggest things to consider when making your decision. Keep in mind, a poorly done Outdoor Living Space will typically cost just as much or more to remove and reinstall correctly.
Contact
Call Us at:
(978) 798 – 0949
Our Hours
Mon – Fri: 8am – 4pm
Sat: 8am – 12pm
Our Location
220 Sturbridge Road
Charlton, MA 01507
Massachusetts General Contractor License CS-112600, Massachusetts Home Improvement Contractor License 193090